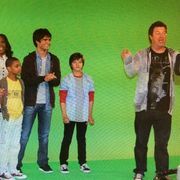 Billion Dollar Freshman was the original name of the show before it was called Lab Rats. It was created by It's a Laugh Productions, filmed by multiple cameras, and it would run for about half an hour per episode.
Plot 1
The comedy will be about two brothers, Adam and Brad, who are government engineered robots that are scheduled to be demolished and replaced by upgraded versions. But when the brothers hear this information they escape and try their luck at hiding in the real world disguised as humans!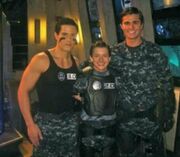 Plot 2
The show centers on two teenage brothers in high school who have a secret: they're bionic super soldiers implanted with high-tech bionic abilities on the run from the government.
Cast
Spencer Boldman as Adam

Billy Unger as Brad
Tyrel Jackson Williams as Leo
Hal Sparks as Gil L. Arroy
Dawnn Lewis as Melanie
Dennis Haskins as General
Kiara Muhammad as Keshia
Kurtwood Smith as General Newcombe
Kevin West as Agent O
Thomas F. Wilson as Principal Preston
Mary Pat Gleason as Esther
Marcia Miller as Madison
Characters
Brad is 13 years old and Adam is 15 years old. Brad has super speed and Adam has super strength. Brad is smarter and faster than Adam because he's a newer 2.0 version. They were cloned in a government lab.
Trivia
Bree was never a character.