"
It looks like somebody TOUCHED MY STUFF!
"

"Drone Alone" is the 13th episode in Season 1 of Lab Rats. It first aired on July 5, 2012.
Plot
When Tasha and Davenport go on a vacation, it is up to Leo to make sure that nothing happens to his step-dad's prized possessions. Leo and the Lab Rats all promise to behave, but the second they leave, Adam, Bree, and Chase start to fool around in the lab. At night, Leo turns on the LEMP, a "glitch machine", thinking it is a nightlight. In the morning, Leo wakes up to find that Adam was talking backwards and Chase could only see pixels. They tell Leo that Bree began running in the night and they didn't know where she went. Chase uses the computer to track Bree. They fix their glitches, Bree runs home by using a map, and Chase finds out he tracked one of Davenport's drones, forcing Eddy to steer the plane back. In the end, Davenport grounds Leo and the Rats.
Cast
Main Cast
Recurring Cast
Trivia
This is the first and only appearance of the LEMP and Davenport's drone.
Eddy does only one bracket smile which is in this episode.
Cultural References
The title of this episode is a reference to the 1990 American Christmas comedy film, "Home Alone"
Eddy paraphrases Betty Davis' famous line "Fasten your seatbelts, it's going to be a bumpy night."
Quotes
"
Leo: Chase, what're you doing on Davenport's computer?

Chase: Oh-ho. I'm pulling a prank on him. The next time he checks his bank account, it's gonna be in euros. Bam! Same value but still funny, right?

"

— Leo and Chase
"
Tasha: Don't worry. Eddy is here to monitor every room in the house. He is like a virtual baby-sitter.

Eddy: Yeah, and I virtually care about your kids.

"

— Tasha and Eddy
"
I think I'm okay. Wait, my voice isn't coming out of my butt, is it?
"

— Adam
"
Tasha: Are you telling me that we are just randomly flying around right now, no flight plan, no pilot?

Eddy: Gee, Tasha, this sounds pretty serious. You should probably jump out.

"

— Tasha and Eddy
"
Donald: Okay, Leo, this is your chance to prove you're responsible enough to stay at home without us.

Leo: Me? What about them? (indicates Chase, Adam and Bree lounging on the sofa)

Donald: They were designed to go on missions and save the world; you were designed to break stuff.

Leo: Don't worry. I know the rules: No touchy-touchy your stuffy-stuffy.

"

— Donald and Leo
Gallery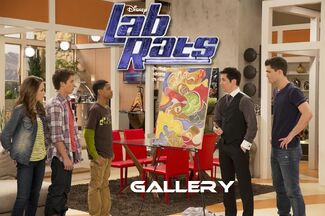 The image gallery for Drone Alone may be viewed here.
Transcript
| | |
| --- | --- |
| | For a full transcript of Drone Alone, click here. |
Videos
Userbox
Code:DroneAlone
My favorite episode is
Drone Alone!
Community content is available under
CC-BY-SA
unless otherwise noted.