| | |
| --- | --- |
| | This page was once a Featured Article! |
| | |
| --- | --- |
| | This character won favorite recurring character in the 2014 Lab Rats Wiki Awards! |
"
Didn't feel a thing, who else wants to not hurt me?
"
Edison "Eddy" Davenport is one of the two known computer robots in the Davenport Household (the other being Edie). Eddy loves teasing everyone, which is why they find him annoying and very creepy. His body consists of letters that make up his name: E - the body, D D - his eyes, Y - his suit.
He is portrayed by Will Forte.
Biography
Douglas blew up the lab in No Going Back, and in Sink or Swim, it was revealed that he had been destroyed, much to Tasha's amusement. This is probably due to his mainframe computer being located in the lab. However, when Donald Davenport rebuilt the lab in Mission: Mission Creek High, Eddy was reinstalled. Eddy makes an appearance in human form in the episode Human Eddy. It seems Eddy now spends imprisonment in the Davenport Bionic Academy's wall-screens.  
Personality
Eddy is very traitorous, narcissistic, cynical, sadistic, sarcastic, rude, egotistical, and cruel, and seems to dislike many of the people that live in the Davenport Household, with the obvious exception for Donald Davenport, his creator. Eddy enjoys taunting and provoking everyone in the household, especially Tasha, because they share the same anniversary, and because of it has been labeled as somp. He particularly does not like Tasha and has a continuously argumentative and opprobrious relationship with her. He also likes getting the attention of Donald, and while sometimes malicious, he never means to hurt Donald, for instance when he frantically apologizes to him for apparently hurting him in his human form. He also is extremely childish and immature, perhaps even more so than the likes of Leo, Adam, Bree, Chase, and even Donald himself, and can do a lot of petty things for purely attention-seeking purposes. For instance, when he plays games with Donald, like dodgeball, he takes great joy in cheating in his games, which caused Donald to quit playing to spare himself the trouble of dealing with Eddy's trickery.
Appearances
Mentions
Trivia
Quotes
"
Well, if I know you, it'll probably involve some stupid plan, and an epic fail. Good luck!
"
"
Look at our hero who arrived at the villain's house with his red wagon.
"
"
Oh, what happened? And who enabled my cookies?!
"
"
Wow! Who needs doctors when they got a sixteen year old crack-pot with a magic pill?
"
"
I'm definitely looking at a room full of tools!
"
Gallery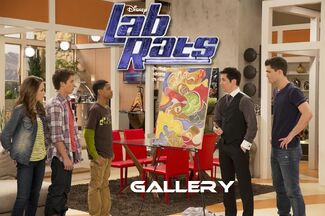 The image gallery for Eddy may be viewed here.
Community content is available under
CC-BY-SA
unless otherwise noted.