Leo Dooley (Parallel Universe) is entirely bionic in a Parallel Universe, but the Leo in the regular dimension is only bionic in his right arm as of You Posted What?!?. Parallel Leo is a Bionic Student at Mission Creek High, and he has the same personality as the Leo. In Parallel Universe, he was temporarily replaced by the regular Leo, who received his bionics for that time.
He is portrayed by Tyrel Jackson Williams.
Biography
It all started when Leo was in the lab and was pulled into another dimension by a wormhole that was created by Donald Davenport, and when Leo got there he replaced Parallel Leo for a day. He goes upstairs to discover their house is completely different, he has bionics, and Tasha is the brilliant scientist, not Donald.
Leo talks to Parallel Donald, discovering he is a terrible scientist, and everything he makes explodes. He tells Parallel Donald about the wormhole and how he's in a parallel universe, although he didn't believe him. Leo goes to the parallel school, seeing Parallel Perry (who is actually nice, other than the actual Perry) and Adam, Bree and Chase's the last name is Henderson, not Davenport. Leo talks to them, but they act like they don't know him, implying they don't know Parallel Leo.
Leo makes the mistake of showing the Henderson's his bionic secret, making them freak out. Later that day, they tell Leo his bionic secret is safe with them. This turns out to be a lie, as they get a government agent over at the school, to take Leo away, but he escapes (along with Parallel Donald who was over there to pick Leo up from school).
They go home, but later, more government agents swarm their house, causing Parallel Donald to faint, and they both get captured and handcuffed. One of the agents, (Agents Gordon), tells them it will explode if he tries to break out of them. Parallel Tasha is being assisted by an agent going down the stairs, when they take her outside, she hints something to Leo, which is actually telling Leo that he has new bionics. Parallel Donald figures this out, and tells him about geo-leaping, which they do, and end up at the school.
Parallel Perry finds them, and tell them agents are trying to find them. She helps Leo and Parallel Donald, and they try to escape. Adam, Bree and Chase Henderson look for them, and find them. But Leo super speeds with Parallel Donald back to the house, where the agents are still there, but instead of running away again, Leo fends them off with his bionics, and they run down to the lab. Leo tells Parallel Donald about the fuser, and about how it worked, which helped Parallel Donald fix it, and make it work. Parallel Donald tells Leo what will happen when he goes back, saying everything will go back to normal, and they won't remember anything. After their goodbye hugs, Parallel Donald fends off the agents that try to break in, and Leo jumps into the proton fuser, and everything goes back to normal.
Powers and Abilities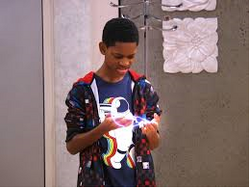 Glitches
Imprecise Geo-Leaping: Because his Geo-Leaping ability is fairly new, it has not yet been perfected, so it sometimes brings Leo to the wrong location.
Uncontrollable Electrical Generation: When he puts his hands in front of him and accidentally uses this ability, he tears down everything that is not immune to lightning.
Trivia
Leo was 15 in Parallel Universe.
He is a Bionic Superhuman, and is probably the only one of his kind in his universe.
He has the same personality as the Leo in the original universe. However, this might not be his true personality, as parallel Donald thought he was imagining things.
Parallel Leo is completely bionic, while the real Leo is bionic only in his forearm and one leg.
Unlike Chase, when he uses two abilities at once, does not faint. (Sink or Swim)
The real Leo later turned out to be actually bionic.
Community content is available under
CC-BY-SA
unless otherwise noted.