"
Why is it you always hurt the ones you love?
"

"Merry Glitchmas" is the 20th episode in Season 3 of Lab Rats. It first aired on December 1, 2014. This is the 66th episode overall.
Plot
When Adam, Bree and Chase discover that their new action figures are being outsold by another toy (The Nerble), they attempt to improve their toys by adding special features - bionic abilities. After adding them they decide that the toys are too dangerous for kids and put them in a box to be destroyed. Tasha is running a toy drive at the school and is collecting gifts. She finds the action figures and hands them out. When Adam, Bree and Chase find out, they rush to school and try to catch the action figures. After destroying the toy drive, they find a way to make it up to Tasha and the kids. Leo and Donald have a snow ball fight in the house and Grandma Rose shows up, just as Leo uses his bionic arm. Rose gets mad and calls Donald a bad father. Donald tries to makes it up to Rose by giving her an action figure, made from a Bree figure, but it explodes.
Cast
Main Cast
Recurring Cast
Mentioned Cast
Trivia
Goofs
Quotes
"
Rose: Wait a minute: are you standing up to your grandmother?
Leo: Yes, I am. If... you're okay with that.
Rose: Well, I guess you have become a man. Look, I still don't approve with you havin' a bionic arm, but, I love you so I'm just gonna have to learn to accept it. And we will be going shopping on black Friday. Give me a hug.
Leo: Thanks, grandma. But I think the person you should really be hugging is him.
Donald: Bring it in, Rose.
Rose: Well, it is Christmas. Just tell me one thing Leo: why did you need a bionic arm anyway?
Donald: It's a funny story: a ceiling bean fell on him while a bionic mad man was trying to kill him for the third time.
Rose: Gimme that gun. You about to eat a whole lot of snowballs.
"
Gallery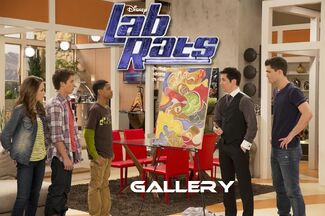 The image gallery for Merry Glitchmas may be viewed here.
Transcript
| | |
| --- | --- |
| | For a full transcript of Merry Glitchmas, click here. |
Userbox
My favorite episode is
Merry Glitchmas!

Code:Glitchmas
Community content is available under
CC-BY-SA
unless otherwise noted.