Note: This is NOT the real president. THIS IS A FAKE PRESIDENT.
The President is the fictional president of the Lab Rats series. He is very fond of Adam, Bree, Chase, Donald, and Leo. In Rise of the Secret Soldiers, he tried helping the team after the world turned against them. His first name is revealed to be Craig.
Appearances
Season 3
Season 4
Trivia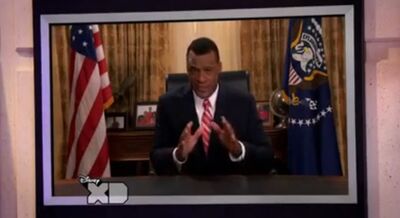 He was once controlled by Krane's Triton App.
He thinks Leo is somewhat useless since he always laughs when Leo tries to show off. He also called him funny.
He says that Douglas is just the help.
He is the only known non-bionic shown to be controlled by the Triton App.
He is best friends with the Vice-President, but he got into an argument with him.