"
Mr. Davenport made us superhuman, because when all else fails, we can't.
"

"Rats on a Train" is the 5th episode in Season 1 of Lab Rats. It first aired on March 19, 2012. It features Adam, Bree, Chase, and Leo's first mission and first mention appearance of Caitlin.
Plot
The Lab Rats get their first mission to stop Davenport's hi-tech super fast train from speeding out of control. Leo sneaks along, but when the Lab Rats discover he accidentally discarded the braking system they were supposed to install, they must improvise a way to stop the train before it crashes into a nearby town. Meanwhile, Tasha is given her big break at the TV news station when her boss asks her to cover the runaway train. She misses to see the train and fails the report. After Leo stops the train, Tasha finds out and she grounds Leo for two weeks in his room without television, video games and leaving the house, but Leo shortens his grounding to one week without Tasha knowing.
Cast
Main Cast
Recurring Cast
Mentioned Cast
Trivia
Cultural References
Quotes
"
If you didn't waste your life watching cartoons every day, we might all be dead right now.
"

— Chase to Leo
"
Well, if I were to build a high-speed train, the first thing I would have put in was a cup holder. Oh! And one of those bumper stickers on the back that says, "I brake for cows."
"

— Adam
"
Bree: We can't quit now.

Chase: If we do, it means we failed our first mission.

Adam: Yeah, we've been training our whole lives for this moment now. I'm not giving up.

"

— Adam, Bree and Chase to Leo
"
We put ourselves in danger for the sake of humanity.
"

— Bree
"
We're all in this together. I may not be superhuman, but it doesn't mean I can't be a hero.
"

— Leo
"
Donald: Leo, just because you can't go on the train doesn't mean we can't have fun here. I'll... I'll pop in the Goober the Spunky Caboose DVD for ya!

Leo: I'm fourteen.

Donald: Okay, then pop it in yourself!

"

— Donald and Leo
"
Leo: I can handle extreme cold.

Donald: Leo, you get brain freeze from chewing mint gum.

"

— Leo and Donald
"
Bree: Leo, this is too dangerous for you.

Leo: Please. My middle name is "Danger."

Adam: Thought it was "Francis."

Leo: (levelly) It's pronounced "Danger."

"

— Bree. Adam, and Leo
"
I don't have morning breath. It smells like that all day.
"

— Adam
"
Donald: My auxiliary decelerator will stop anything - ocean liners, freight trains, tanks, eighteen-wheelers, twelve-wheelers...

Leo: Does it stop unnecessarily long explanations?

Donald: (glares at Leo) Apparently so.

"

— Donald and Leo
"
I just spent four hours in a bag without a bathroom. I think my support goes without saying.
"

— Leo
"
Leo: The answer is simple: If Sally's on a train traveling at a certain speed - X, she's gonna reach the curve at a certain speed - Y. All we need to do is multiply X by Y to find out if we have enough track left to stop.

Chase: Okay... but what if Sally is sitting on enough nuclonium to reduce an entire city to a stain?

Leo: Well, then Sally should've taken the bus!

"

— Leo and Chase
"
Leo: So, what's our next mission? A runaway rocket or a sinking battleship?

Chase: How about trying to explain this entire thing to your mom?

Leo: That's a mission we'll never return from.

"

— Leo and Chase
Gallery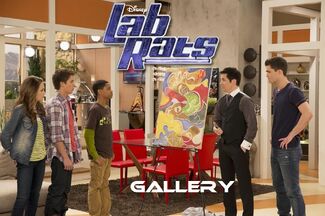 The image gallery for Rats on a Train may be viewed here.
Transcript
| | |
| --- | --- |
| | For a full transcript of Rats on a Train, click here. |
Videos
Userbox
Code:RatsOnATrain
Community content is available under
CC-BY-SA
unless otherwise noted.