On May 9, 2014, Disney XD announced that they renewed Lab Rats for a fourth season [1]. There will be 26 episodes this season [2]. Filming started October 2014. The first episode was released on March 18, 2015.
Episodes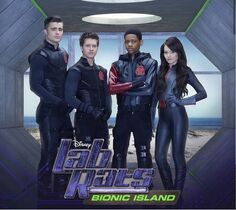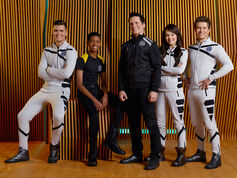 Cast
Main Cast
Recurring Cast
Guest Cast
Special Guest Cast
Trivia
This season is renamed to Lab Rats: Bionic Island. It also features an updated beginning to the intro.
This season makes Lab Rats the 2nd Disney XD series to make it to Season 4.
There were five one-hour episodes (not including the crossover): Bionic Rebellion, Bionic Action Hero, Lab Rats: On The Edge, Space Colony, and The Vanishing. This is the most one hour episodes in a season.
Spike returned in Spike vs. Spikette, along with another student with the Commando App (Spikette) and Bree's Commando App, (Spikerella).
Leo was given a bionic leg to replace his injured one in Space Elevator.
There was a crossover this season with Mighty Med in Lab Rats vs. Mighty Med.
This season features two new sets, the Mentor Quarters and the Davenport Bionic Academy.
Hal Sparks directed the episodes Left Behind, Spider Island, and Space Elevator.
Marcus Davenport, Taylor and Victor Krane all return this season after the latter two were presumed deceased, while the former was brought back to life after being destroyed.

Of the three, Taylor is the only one still alive.   

A new bionic sibling is introduced this season, Daniel Davenport.
The season and series finale, The Vanishing, aired February 3rd, 2016.
This is the only season that doesn't end in a cliffhanger.
Theme Song
References