Hi There Person! I'm Lycan Princess!
I'm Nicoole, but I would prefer being called Lycan Princess. Or call me Pinkie Pie, I really don't mind.

I am a Chatmoderator and a Rollback, so if you need anything, feel free to talk to me on my Message Wall! Lab Rats used to be my favorite show for about a year until I discovered Venturiantale. I still do love Lab Rats, but now I am getting older and have gotten into a different genre type. I may not be the most active right now, but I will try and go on here as much as possible. If you can't find me on here, I am most likely reading a book. Lately I will read almost ANY Venturiantale fanfiction out there, but I still am a little sketchy on Lab Rats fanfiction, cause writing it is kinda a hit or miss. I enjoy many shows: Lab Rats, Supernatural, Doctor Who, Gravity Falls, Star Wars Rebels, and a few others. I am also OBSESSED with Gmod Venturiantale and Fairy Tail, and I have spent a ridiculous amount of my summer watching them. I enjoy Reading, Science, and Video Games!
"
Hey! Do You Wanna Know My SECRET!?!?!?
"

— Jimmy Casket's catchphrase
Polls
Is Lycan Princess totally kool?
About Meeeeeeeeeeeeee
Jimmy Casket is Da Best Thing Evah!
I started watching lab rats about when season 3 had first aired when I saw that Avalanche had re-run so I watched it, and quickly fell in love with the show!! :D
I have been hooked to Star Wars Rebels after I saw Gathering Forces, February 15th. Most likely I will be addicted to it (along with Venturiantale) after Lab Rats ends.
As of Rise of the Secret Soldiers I am crushing on Sebastian because he is obviously the cutest character on the show, and at the first moment I saw him, I was Cray Cray. And when he turned evil in the season 3 finale that made me crush on him even more!
I get a crazed grin every time I read Venturiantale fanfiction. I'm not crazy!
My 4 Genres for books, TV, and Videogames are (in order) Medieval times, Science Fiction, Paranormal stuffs (if that's a genre), and Mystery.
I discovered Venturiantale when I was watching "Top 5 Skyrim Mods of the Week" on Youtube, and saw a link for "Gmod SQUIRT GUN Weapon Mod! - I'M A BIRD SONG (Garry's Mod)" and watched it. After that, I watched "Gmod BUBBLE GUN Weapon Mod! (Garry's Mod)" then "Gmod MCDONALD'S ZOMBIE Survival Map! (Garry's Mod)". I did not like it much, until I went on Venturiantale wiki and discovered P.I.E, Jimmy Casket, and many more. Now it is my favorite YouTube channel, and my overall favorite series.
I have really liked Doctor Who as of mid May, and watched over half the series by June. I am heartbroken that they got rid of a lot of my favorite characters, but I like sad episodes best.
(R.I.P Rory and Amy Pond)
I fell IN LOVE with Fairy Tail in June (2015), but in July I realized how much I loved it, so I bought episodes 49-98 on DVD. I finished them all in two days. My goal is to finish the entire series before school starts for me on August 12th. This is also the reason I am semi-active. Thanks to the amazing User:LabRatsLover19 for telling me about this series!
I did not know what Disney channel was until I started watching Lab Rats.
I am currently freaking out that Marcus is back! YAS!!!!!!!!!!!!!!!!!!!!!!!!!!!!!
Favorite Episodes
1. FUNNY DRAGON RAGDOLL! Gmod Siblings Roleplay (Venturiantale)
2. Johnny Ghost vs. Zombies! (Venturiantale)
3. Gmod Funny VELOCIRAPTOR Playermodel Mod! (Venturiantale)
6. HAUNTED BY CARDBOARD FRIEND! - Gmod Mod (Venturiantale)
8. Not What He Seems (Gravity Falls)
9. The Angels Take Manhattan (Doctor Who) (Sad warning)
Favorite Quotes of All Time!
"
Yes, that's right! Watch as I thrash our enemies with the mighty power of floral arangements!
"

— Alistair in Dragon age: Origins
"
GWEGORY! How could you forget your own bwother?
"

— Cardboard Friend, to Johnny Ghost/Gregory Casket
"
I fall off horses, It's what I do.
"

— Maric in Dragon age: the Stolen Throne
"
Hey! Do You Wanna Know My SECRET!?!?!?
"

— Jimmy Casket's catchphrase
"
It's a fez. I have a fez now. Fezzes are cool.
"

— The 11th Doctor in Doctor Who
"
Mr Sviggles: What zis the answer of 2+4?
ImmortalKyodai (Roleplaying Jeff the Killer): Uhh... Is it, Knife?!?!?
Mr Sviggles: Yes, have knife day. Now I jump out ze zwindow.
"

— ImmortalKyodai and Mr. Sviggles in Gmod Venturiantale
"
You're a wizard Ji----- OH MY DEAR GOD WHY ARE YOU AT HOGWARTS YOU PHSYCO?!?!?!?!?!?
"

— User on Wattpad about Jimmy Casket being able to count, making him seem like a wizard.
"
Jimmy Casket: We...Move to Madagascar, befriend the lemurs, and become one of the New York Giants!
Johnny Ghost: ...Uhh...Have you been watching Madagascar again Jimmy?
Jimmy Casket: Yeah! But it's a great idea, no?
"

— Jimmy Casket and Johnny Ghost in The Evil That I Hide, Venturiantale fanfiction.
FAQs
How Did I Get My Name?
Well, I got my name when I started AQW in 2013 and called myself Lycan Princess. I called myself that because I have a 4 year old dog named Princess and I added "Lycan" because that is the official term for werewolf, and I was in a werewolf craze at the time. I also added Princess to my name so that ppl would recognize me as a girl, but it didn't work at all.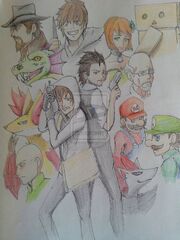 Boy or Girl
I have no idea how many times I have heard this question, but yes I am a girl. I am an extreme tomboy, but I'm a girl.
Who is Jimmy Casket?
Jimmy Casket is probably my favorite character in the world for the following reasons: First of all, he may have the biggest and most complex backstory I have ever seen. Honestly I can't think of a single person that could top his mysteriousness. Secondly, JOHNNY GHOST AND HIM ARE THE SAME PERSON!!! So this means that Johnny is randomly turning into Jimmy when he is hurt or threatened. I'm still waiting for Toast and Jimmy to meet on camera, but it has to happen sooner or later! Thirdly, he has no doubt the best and the most fanfictions on wattpad. I am not sure about anywhere else, but wattpad is where I read my stuffs.
Any Ships?
I am shipping Slendally (Sally Acachalla and Slenderman also from Vtale), Padipperica (Dipper and Pacifica from GF), and I used to ship Cimmy (Carter and Jimmy Casket from fanfiction), until I realized how jelly I was of Carter.
Infoboxes
| | |
| --- | --- |
| | This user is a Moderator. |
My favorite character is
Marcus!
| | |
| --- | --- |
| | This user is a rollback |
| | |
| --- | --- |
| | This User Ships Spike and Spikette |
Community content is available under
CC-BY-SA
unless otherwise noted.